Cisco Live US 2017 - Memories
Cisco Live US 2018 is almost here. And even though this blog post is one year overdue, I would like to reflect on my CLUS 2017 experience. Some things have been forgotten, and some moments are still as clear as when they happened.
Cisco Live US 2017 was held in Vegas in June, 2017. It was my second Cisco Live experience ever, I was a Cisco Live speaker for the first time as well as it was my first visit to US. Needless to say it was a memorable event in my life that I would remember for a long time.
Let me start first by saying thank you to my Cisco and RouterGods colleague and mentor, network programmability enthusiast Kevin Kuhls @sdn_dude. He is the reason why I was accepted as a speaker in the first place. This is the person who puts success of others before his own. I was delivering a session previously presented by him at Cisco Live Europe 2017. Honestly, I couldn't have done it without his continuous guidance and support. Kevin is a person who does not need to be in a leadership role to lead, people will just follow him - he leads by example. One of my RouterGods friends Francois Caen @fcaen, who was being mentored by Kevin as well, joked "You and I are Kevin's minions". It was said in a good sense: we chose to follow him on our own, noone asked or forced us to. Since then it became our inner circle joke. Kevin also introduced me to the network programmability world and to the Cisco DevNet community.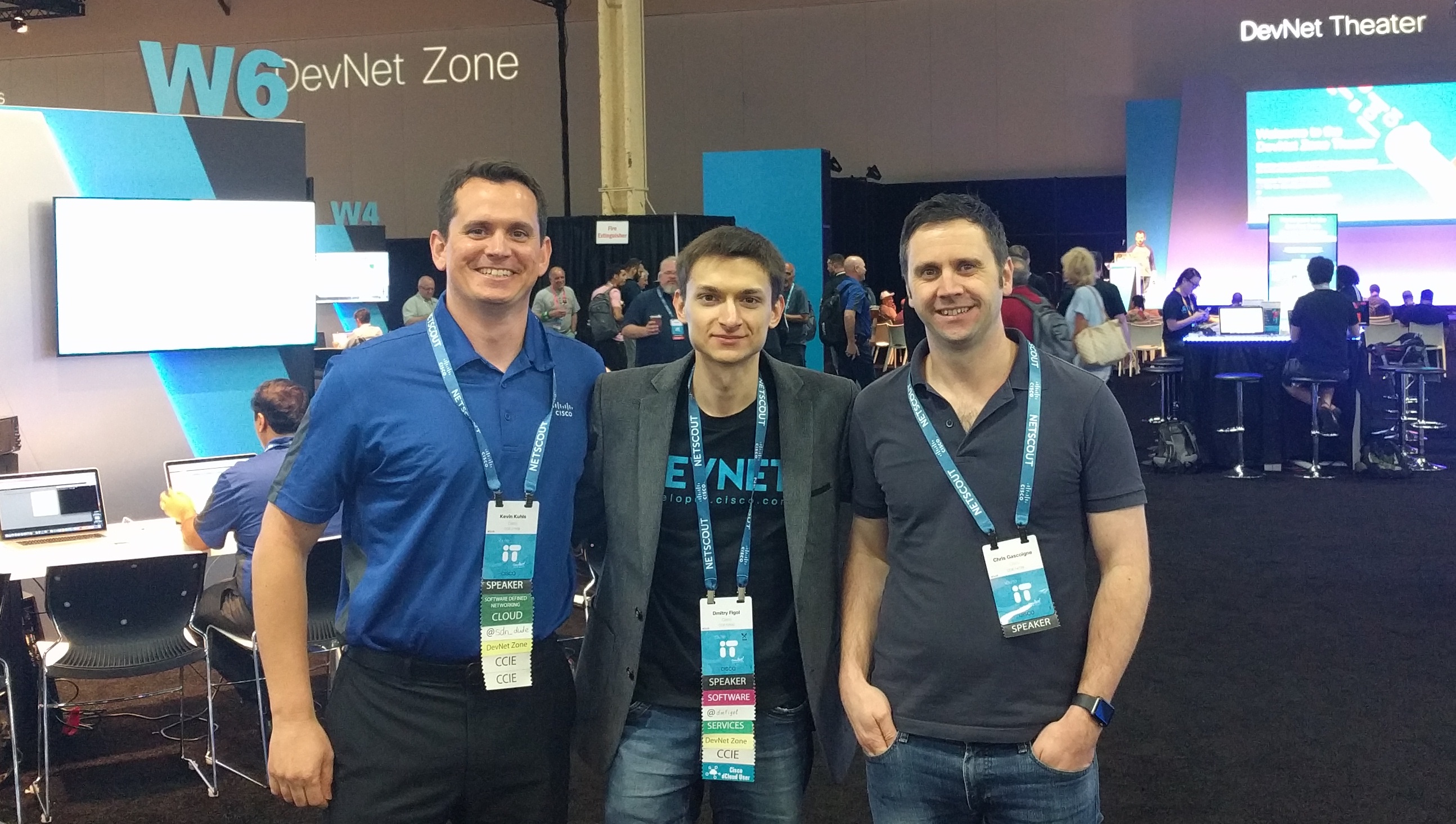 Kevin, I and Chris @ CLUS2017
Another shout-out goes to the best community manager in the world, representing Cisco DevNet, Silvia Spiva @silviakspiva. Silvia was the first person I met at Cisco Live Berlin 2017 and even though she didn't know me at that time, she was very friendly to me and made me feel welcome at Cisco Live. She showed me how amazing and friendly the networking community is. Since Berlin we have become friends. We even invented our own rituals:
To watch either opening or closing keynote together.
To do daily #SelfieWithSilvia challenge on Twitter.
Silvia is an amazing person and if you have visited Cisco Live but never talked to her - shame on you! Make sure to fix this during the upcoming Cisco Live event.
Thank you Silvia for being an awesome friend! Even though we don't meet often, I am always looking forward to seeing you.

Silvia and I @ CLUS2017 closing keynote
The last "thank you" goes to two leaders of the RouterGods networking community: Katherine McNamara and Humphrey Cheung. I've been a RouterGods member for a while, and recently I have also joined the leadership team. It is a great community, where I met a lot of brilliant network engineers. Thanks to Katherine and Humphrey for creating and leading it!
Katherine is the machine when it comes to labbing. I am amazed by the effort she was putting into her second CCIE, this time CCIE Security, which she passed recently. She has so much passion for networking. She is quite popular because of her security expertise and ISE, in particular. She blogs at network-node.com. If you haven't checked her blog, make sure you do! At some point I asked Katherine to become my mentor. Katherine was helping me understand what I want to do in my career and for that I am forever grateful. Until CLUS, we saw each other only virtually. Needless to say, I was so happy to finally see my mentor in person!

Katherine and I @ CLUS2017
Speaking of RouterGods, every CLUS, the founder of the community Humphrey Cheung organizes meetup, hotel suite and event program for RouterGods members. At CLUS 2017 we had Vista suite in Mandalay Bay with more than 50 people in the room and it was an absolute blast! I've met so many people that I knew only virtually before. I even had a chance to present in front of RouterGods members the topic I knew quite well - Understanding DMVPN. Should we name it BRKRG-2001?!
For a while I will definitely remember myself sitting in the chair in Vista suite, barely alive after a long and exhausting day, replying "How come?" to another RG member who just told me he was born in Ukraine. Ah, memories!

Humphrey and Katherine @ CLUS2017
So what other things from Cisco Live US are still ingrained in my memory?
Probably the most important thing is meeting new people. I've had a chance to talk to a lot of well-known people in the community. What impresses me the most is that majority of networking experts are humble and friendly. Everyone I talked to was very welcoming to me, even though they didn't know me. Everyone was willing to dedicate some time to me. Talking to experts in the field was truly inspirational. Meeting new people at Cisco Live is so much more important for me than sessions. On my very first Cisco Live (CLEUR 2017 in Berlin) I built a tight schedule with a lot of sessions, but every other Cisco Live, I barely go to any. I think that even though there is a lot of great and unique technical content at Cisco Live, the sessions are just a good excuse to gather in one place and spend time talking to people.
Here is my advice to newcomers at Cisco Live: schedule just several sessions (the most interesting to you) per day and don't overwhelm yourself, have time on your calendar and spend that time to meet new people. How often do you have a chance to talk to people like Russ White, Nick Russo, Andre Laurent, Ethan Banks, Tom Hellingsworth, Brian McGahan, Hank Preston, Jordan Martin and many many others? When you don't know what to do, just go to the Social Media Hub, where you will find a lot of amazing people from the networking community!
Let me share another memory I have. As I mentioned above, I don't attend a lot of sessions. Between meeting people and preparation for my sessions, I barely have time at Cisco Live. But sometimes I do. At Cisco Live US 2017 I scheduled the 4h lab with the cool name Capture the Flag. This was a new session created by Michael Kowal, Abel Ramirez and Dash Thompson. The title was intriguing and I gave it a shot. The session required team of 2 people so I paired up with my RouterGods friend Steve McNutt. The idea behind Capture the Flag is to find flags, what are usually some piece of information stored somewhere in a non-obvious place. Usually CTF events require broad expertise, logic and creativity, mostly in Security and Penetration Testing - you are supposed to hack / find vulnerabilities, exploit them and get the flags. CLUS CTF session did not require the knowledge in Cyber Security, mostly solid routing knowledge.
The session was mind-blowing, truly piece of the art. The tasks were challenging and fun. One of them I will remember for a long time. We needed to find a TCP MD5 authentication password used for BGP, based on the sniffed BGP packet exchange. From the hash you can't reverse the password, so I had to write a shell script which was brute-forcing the password from the top 100000 password list using tcpdump -M flag, which verifies if the password is correct for the existing pcap. It was fun! I didn't even suspect that my programming skills would be handy for that session.
Sadly, I can't go to CTF lab this year, because I present during the same slot.

Capture the Flag @ CLUS2017
Another moment that I remember clearly is getting signed books. I am not a big fan of printed books, since I read everything in digital format. But it does not matter. I managed to get Troubleshooting BGP signed by Brad Edgeworth and Vinit Jain and The Art of Network Architecture signed by Russ White and Denise Donohue. To be honest, I still haven't read them, but those hard copies carry precious memories of me trying to find the authors at CLUS venue and having a chance to talk to them.

Russ White and I @ CLUS2017

Denise Donohue and I @ CLUS2017

Vinit Jain and I @ CLUS2017

Brad Edgeworth and I @ CLUS2017
Last, but not the least is DevNet. Even though I am not officially part of DevNet, you have probably seen me promoting it all the time. I love wearing DevNet T-shirts, I try to speak in DevNet zone at every Cisco Live, I try to be aware of what they are doing and I try to be involved in their activities as well as partner with DevNet members, who, by the way, are amazing people! Even though I am in sales, I don't mind promoting them, because I truly believe in DevNet. They do a lot of programming, network automation, DevOps - things that I am focused on as part of my job too. You can hear about network programmability and automation everywhere these days and I see a lot of people being scared of this change. DevNet's main goal is to lower the entrance barrier for people who would like to start in network programmability and form the community. They produce tons of the content for Cisco Live and beyond that, both for people who just started their network programmability journey and for those, who are already experienced in it.
In fact, just two months ago the team of 8 people from DevNet and Cisco Sales, including me, got together in Ohio to rewrite the content for DevNet Express DNA track from scratch. It is even more exciting to know that this event with the new content is being delivered just a couple of days before Cisco Live US 2018.
DevNet zone is open for everyone with any Cisco Live pass, sessions do not require prior registration. Additionally, most of them are short (~45 minutes) so it is easy to include those in your schedule on the fly when you have an open slot.

DEVNET-2449: Python for Enterprise Network Elements @ CLUS2017
Ok, it is time to wrap and get back to preparation for my sessions.
Among all of them, I am the most excited about the new DevNet workshop I am doing this year - DEVNET-3627: Make Python applications faster with asyncio!
It is the first time this topic is covered at Cisco Live ever and the first time it is covered in the networking context at any programming conference around the world. Just before the Cisco Live, I was in RTP, North Carolina, where my colleague and I received a lot of gear to build several physical labs. All the gear was racked and stacked and to verify that the cabling was done according to the documentation, I wrote a script that was using techniques that are going to be covered in my workshop. If you follow me on Twitter, you have probably seen this tweet:
Cool, isn't it?
asyncio is an interesting way to implement concurrency in Python and I can't wait to tell you more about it at my workshop!
That's all I have for today.
If you are at Cisco Live, I will be more than happy to see you at one of my sessions.
Thanks for reading and see you at Cisco Live US in Orlando in several days!
Share: